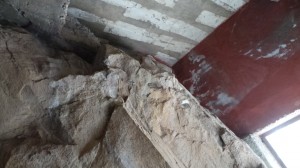 Sun Remained Bright throught Only blessings rained
Mahavatar Babaji, a Himalayan mahayogi said to be about 1,800 years old, is the founder of Kriya Yoga. The world first heard about him courtesy Paramahansa Yogananda'Autobiography of a Yogi.
After reading Sri  Ms book  from Amuda ,I was blessed with a chance of going to Himalayas.  I also learnt  kriyayoga shortly after I returned from Himalayas. I never thought I get a chance to visit Babaji caves..so soon.
We returned from Kedarnath to Guptakashi on 2nd June, we continued our journey towards rudraprayag and sonprayag.
We were in a state of ecstacy of greatest experience  we had at kedarnath. It was cold, especially in the night. The whole night in Kedarnath ,we were standing around the temple along with many devotees  and few sadhus who barely wore anything but sitting with a dhuni in front.
While Waiting for our turn of abhihekam and  Pradakshinam  around temple for 11 times, we got  ample opportunity to spend time in the temple  almost whole night until sunrise.
The warmth of ecstasy and satisfaction brimming and overflowing in our hearts never let us feel a race of discomfort. Mighty kedarnath temple with its fullest glory…spent time with us.
Bhairavnath open temple is 1 to  2 km trek up above the Kedarnath temple is nothing short of a marvel, Snow capped Himalayas, lush greenery and vast sky-es and serene surroundings , the enormous temple bells transported us to different state of consciousness.
The sangam of  dancing and mighty light brown waters of Alakananda and pristine white waters with traces of emerald green of Mandakini was breath taking.
Both rivers ..let us play with their waters , offered us some pebbles  to take back as  sweet memories.a
We visited Kalimutt and ancient amazing temple of Adibadri.. We were almost there but could not go to Dhari devi temple..
We drove towards Almora and stayed that night in a place called GAIRSAIN. A small village and good hotel with big heart offered us comfortable stay and nice food.
The following morning we drove to Dwarahat.. to hotel Mayank.
The following day morning was very cool and present…we visited a temple of Mahavatar babaji shirdi sai in a near by  ,ashram. It started   raining  pleasantly. We left the place to Dunagiri(Dronagiri) while enjoying the love fo the ashram that filled our beings.
Dunagiri is a beautiful Shakthi temple. We climbed steps to reach temple and we saw devotes hanging bells after their wishes got fulfilled. Among all the Shakti temples of Kumaon, Dunagiri is counted amid the most ancient 'Sidh Shaktipeeth'
The  statue of Siva and Parvathi in the sanctum behind the screen was amazing and rare appearance .
After spending an hour or so after wearing the saris the temple priest offered to us..we started our journey towards Babaji caves.
We pickedup some wild berries.  We reached Kukuchina  and  Joshi restaurant. Mr Joshi is a wonderful person.,who runs the shop, carries   a welcoming smile
He served us with hoot Maggie noodles and TEA.
I loved Maggie noodles on on 3 occasions. When I was a young medical student. When I was in Kedarnath at Birla guesthouse  and at Joshiiji's place.
We had nobody with us while climbing the hill.Our driver Heeraji dropped us at trek point.
Yogada provided several sign boards on the hill. It was such a joy to start trekking towards caves.We were enjoying the nature, photography. But no single moment was lost with out chant of babaji's maha mantra.I felt as if Babaji was waiting for us to arrive  his place. While climbing the hill, I felt every stone, tree and and the sky above was secretly whispering in my ears some pleasant things.
I fell in love with every inch of that place.   After an hour or so of climbing through the forest, we came to an ashram, which turned out to be Mahavatar Babaji Smriti Bhawan established on the hilltop by YSS. After few more minutes of trek we reached Babaji caves.
Arrival at Mahavatar Babaji's Cave
We reached the steps and the door of the Cave.  As soon as we entered   I enjoyed sweet fragrance of incense in the cave.  There were mats inside.
We formally kept Babajis photos along wit my Ganesh( who always follows me where ever I go) We sat in meditation and I dd the   kriyayoga for that day.
I was overjoyed for I could reach the place. The place made me more and more closer to the master.  I simply enjoyed blessings. After a while..i moved further to explore another cave but it was closed with a huge stone.I collected some dust and sand and some stones. Throughout I remembered Amuda, my friend and my spiritual guide.
It was late evening.. we realized its time to leave. We left t0 Dwarahat and after good night sleep next day morning..we proceeded to Nainital and Kainhidham to pay respects to Baba of neem karoli.
Kainchedham temple is  most beautiful small place… The ashram officials treated s very well and they offered ample food and snacks.
The bhajans that were going on in that temple were non stop and they were so melodious and haunting.From Kainche dham we returned to New delhi.
Category: Kedar